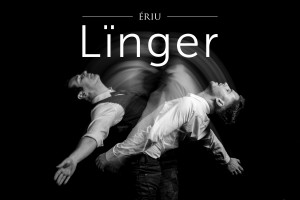 Lïnger is a critically-acclaimed contemporary Irish dance work involving former principal of Riverdance Breandán de Gallaí and Nick O'Connell, two male dancers at opposite ends of their dancing careers.  This ground-breaking theatrical experience received stellar reviews and sell out success at home and at the Edinburgh Fringe in 2016, and is now back with an eight-venue tour across Ireland this spring.
Choreographed and directed by Breandán de Gallaí, this immersive work explores identity, sexuality, and aging, unfolding through a rich tapestry of music, movement, live drawing, photography (Declan English), and film (Terry O'Leary & Trevor Murphy). The piece offers a visceral aesthetic, the mercurial movements of youth juxtaposed with the more considered gestures of the less young. Lïnger harnesses this contrast, making us reflect on the passage of time and who we are at various junctures of our lives.
Although Irish dance is a choreographic starting point for Lïnger, de Gallaí is influenced by many dance genres, and what unfolds on stage is a new style of Irish dance that is both contemporary and provocative.  The soundtrack ranges from classical music to traditional, from tango to jazz.
Responding to Lïnger, Dr. Jools Gilson has written, "Lïnger is a powerfully tender and muscular exploration of Irish gay masculinity. de Gallaí spins an aching narrative, where the extraordinary percussive virtuosity of Irish traditional dance is haunted with the taste of repression. Just gorgeous – moving and chilling in equal parts."
_____________________________________
Praise For Linger
Edinburgh Fringe Festival Aug  2016
Linger was shortlisted for A Total Theatre & The Place Award for Dance at EdFringe2016

5-STAR RATING Edinburgh Fringe Festival
"Linger is superb: a must-see full-on theatrical show … intensely moving
… technically brilliant … breathtaking"
Stephanie Green & Mark Harding, The Skinny 9th Aug 2016
Link to Article 
"De Gallaí is pushing and playing with his inherited language in ways I've never seen before in Irish dance, and in the process exposing aspects of himself and his dance career with a seriousness that feels both tender and brave."
Judith Mackrell, The Guardian 19th Aug 2016
Link to Article
"Anguished and tender … 'Linger' leaves you feeling that masculinity has been carefully disassembled and is now a little better understood.
Jane Berg 20 August 2016
Link to Article
---
Irish Première Jan 2016
"In one moment there is defiance and power … a proud living in the present. But there is also repression … a closed-eye uncertainty and vulnerability to outside forces. Linger skilfully manages these contradictory tensions that lie at the heart of human identity."
Michael Seaver, Irish Times 31st Jan 2016
Link to Article
"Powerful, tender and achingly beautiful in places, 'Linger' marries both form and freedom, spontaneity and refinement and will most certainly linger long in the memory."
Chris O'Rourke Irish Examiner 22nd Jan 2016
Link to Article
---
Additional Reviews
"a spirited delivery of ideas and dance that lingers for all the truest,
thought-provoking reasons"
Mary Brennan, Herald Scotland 9th Aug 2016 – Edinburgh Fringe
Link to Article 
"When the men move, be it intelligent and moving contemporary dance or energietic and precise Irish dance, it's a sight to behold."
Kelly Apter, Scotsman 9th Aug 2016 – Edinburgh Fringe
Link to Article 
"De Gallaí has created a new order with his Irish step dancing skills brought onto a
new and elevated plane. It is an order which embraces many emotions and O'Connell is
the perfect foil for de Gallaí."
Frank L., No More Workhorse 22nd Jan 2016 – Irish Première
Link to Article
"Linger is a powerfully tender and muscular exploration of Irish gay masculinity. de Gallai spins an aching narrative, where the extraordinary percussive virtuosity of Irish traditional dance is haunted with the taste of repression. The breath and ache of contemporary dance becomes an affective counterpoint, as time and again these two beautiful dancers articulate an original take on what it means to be a gay man in Ireland in 2015. This is also a piece about growing older, as the older de Gallai and the young Nick O'Connell spar and wind together, intimacy and formality tangling in their stunning tango. Just gorgeous – moving and chilling in equal parts."
Prof. Jools Gislon, University College Cork – Early sharing of Lïnger work-in-progress