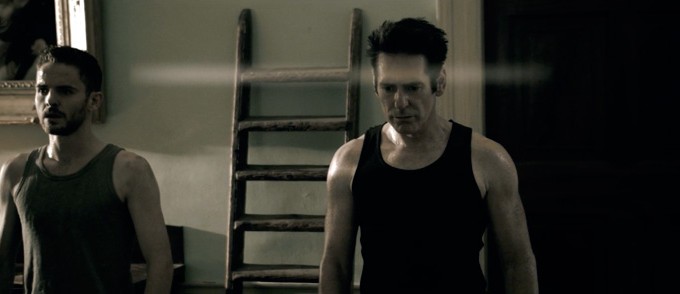 Choreographed and directed by Breandán de Gallaí, Lïnger is a contemporary Irish step dance work involving 2 male dancers (de Gallaí & Nick O'Connell).
This immersive theatrical experience – exploring identity, sexuality, and aging – unfolds through a rich tapestry of music, movement, photography (Declan English), and film (Terry O'Leary).
Lïnger explores, and ultimately rejects, the Freudian tenet that the human is driven towards tension reduction in order to reduce feelings of anxiety. Instead, Lïnger suggests that we can feel empowered through tension manipulation; by embracing tension and anxiety we might feel vitalised, indulging that sense of being on the brink of catharsis.
Lïnger offers a visceral aesthetic – perhaps considered to be unavailable in Irish dance- and challenges the audience to embrace fresh information surfacing in different places and in different ways on the dancing bodies as the mercurial movements of youth are juxtaposed with the more considered gestures of the less young.
Throughout this biographical work are moments of liminality – "being neither here nor there" (Heaney 1996): that deliberate restraint; permanently on the cusp; as we indulgently linger in its vastness. Lïnger is a test of endurance as desire soars but climax is avoided.
De Gallaí's overarching artistic ambition is to explore the expressive potential of the traditional Irish dance form and to use this potential to engage with and address issues and themes rarely explored in traditional dance.
The choreographic vision for the dance project Lïnger is to challenge notions of performed 'Irishness', which step dancing has historically represented with its 'civilised' verticality and its association with good manners and deportment. Although Irish step dance is associated with 'up' orientational metaphors (happiness, consciousness, health and life, having control, goodness and virtue), rather the choreography often evokes 'down' metaphors instead (fear, hurt, anger, remorse, inadequeatenss, shame).